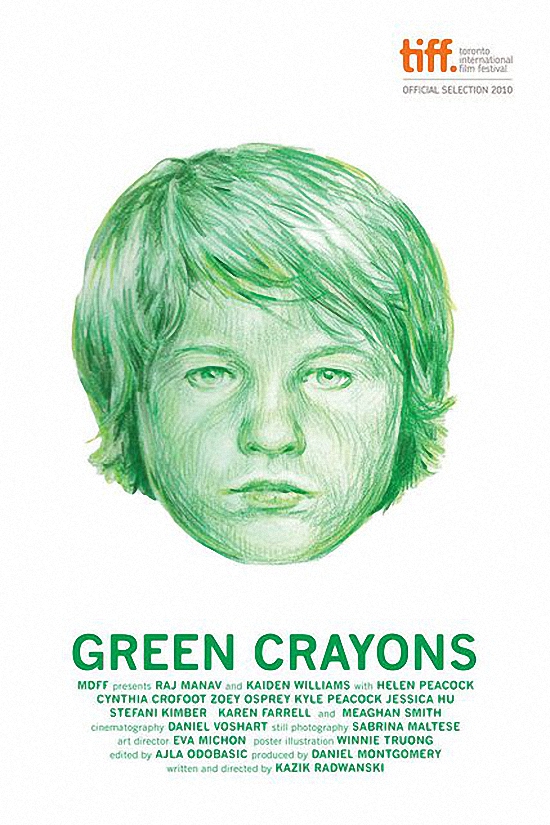 Название: Зеленые мелки
Оригинальное название: Green Crayons
Год выхода: 2010
Жанр: короткометражный
Режиссёр: Kazik Radwanski

В ролях:
Raj Manav, Kaiden Williams, Helen Peacock, Cynthia Crofoot, Zoey Osprey, Kyle Peacock, Jessica Hu, Stefani Kimber, Karen Farrell, Meaghan Smith

Plot:
Green Crayons is the captivating story of two elementary school children, an Indian Canadian kid Xavier and his Caucasian friend Liam, who have to deal with the consequences of spitting on each other in class. At first glance the story appears sweet as the two children are in a classroom; in the background there is one of those inspirational posters that says "Be Generous" and they are browsing through books with cute titles like "Dog" and "Big Cats". It unexpectedly takes a turn towards an impromptu spiting battle between the two until this catches the attention of the teacher who only sees Liam spitting and sends him to the principal's office. The rest of the ten-minute short film deals with Liam's shame due to that the principal is going to have to call his parents and Xavier's guilt of getting his friend in trouble.









Производство: Канада (Medium Density Fibreboard Films)
Продолжительность: 00:10:10
Язык: английский

Файл
Формат: MP4
Качество: HDTV-Rip
Видео: AVC, 1280x720 (16:9), 25 fps, 5888 kbps
Аудио: AAC LC, 2 ch, 48 kHz, 192 kbps
Размер: 442 MB




Уважаемый пользователь, вам необходимо зарегистрироваться, чтобы посмотреть скрытый текст!