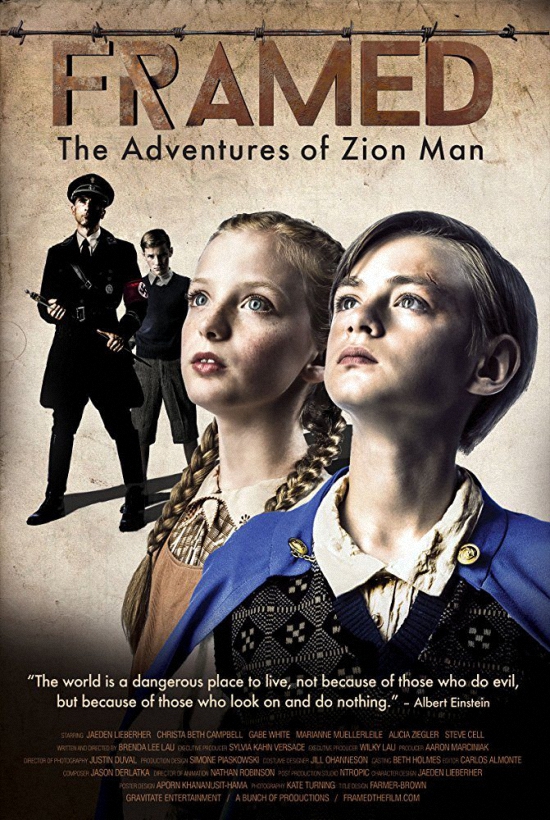 Оригинальное название: Framed: The Adventures of Zion Man
Год выхода: 2016
Жанр: фэнтези, драма, короткометражный
Режиссёр: Бренда Ли Лау / Brenda Lee Lau

В ролях:
Эдвард Эснер / Edward Asner, Джейден Либерер / Jaeden Lieberher, Криста Кэмпбелл / Christa Beth Campbell, Гейб Уайт / Gabe White, Марианн Мюллерлейл / Marianne Muellerleile, Стив Селл / Steve Cell, Алисия Циглер / Alicia Ziegler, Коул Дженсен / Cole Jensen, Jessamin Blu, Maeve Mansfield

Plot:
An evil Nazi, a boy's vivid imagination and his comic book drawings take you on a journey into a world where his fantasy becomes reality at the most inappropriate and dangerous time. Being 12, a talented comic book artist, having a mind of his own, his first crush, the fearlessness that comes with youth and being Jewish in Nazi Germany was Walter's life. Inspired by actual events a combination of live action and animation(based on Jaeden Lieberher's drawings) makes for a thrilling and entertaining tale.









Производство: США (Gravitate Entertainment)
Продолжительность: 00:16:07
Язык: английский
Субтитры: английские встроенные отключаемые и внешние

Файл
Формат: MP4
Качество: WEB-DL
Видео: AVC, 1912x810 (2.35:1), 23.976 fps, ~ 4505 kbps
Аудио: AAC LC, 48 kHz, 2 ch, ~ 128 kbps
Размер: 535 МB




Уважаемый пользователь, вам необходимо зарегистрироваться, чтобы посмотреть скрытый текст!