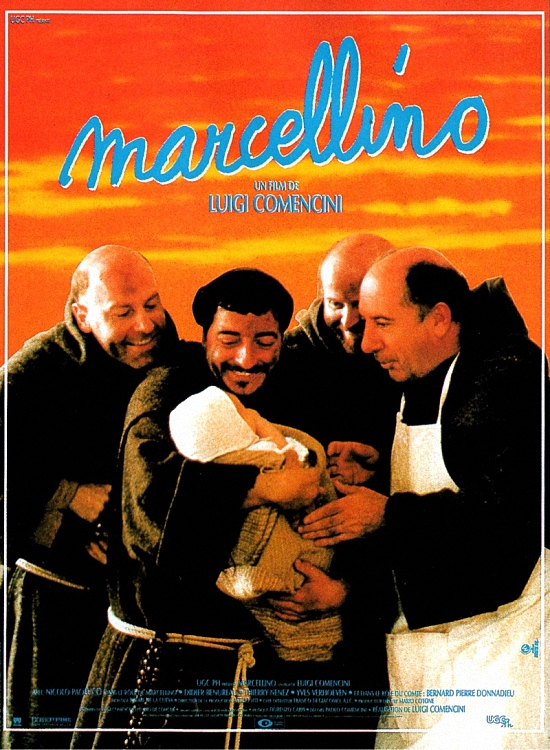 Название: Марчеллино
Оригинальное название: Marcellino
Год выхода: 1991
Жанр: драма
Режиссёр: Луиджи Коменчини / Luigi Comencini

В ролях:
Николо Паолуччи / Nicolò Paolucci, Дидье Бенюро / Didier Bénureau, Серджио Бини Бустрик / Sergio Bini Bustric, Альберто Кракко / Alberto Cracco, Фернандо Фернан Гомес / Fernando Fernán Gómez, Эрнесто Лама / Ernesto Lama, Тьерри Ненец / Thierry Nenez, Лусио Ромеро / Lucio Romero, Франческо Скали / Francesco Scali, Франческо Сичильяно / Francesco Siciliano, Ив Верховен / Yves Verhoeven, Роберто Херлицка / Roberto Herlitzka, Бернар-Пьер Доннадье / Bernard-Pierre Donnadieu, Альфредо Ланда / Alfredo, Landa, Ида Ди Бенедетто / Ida Di Benedetto, Тереза Чека Мартинез / Teresa Checa Martínez и др.

Plot:
In the 15th century, in a poor Italian village, the monks of a modest convent take up an abandoned baby. Unfortunately, for all their efforts, they prove unable to trace his parents. So they set up providing tender loving care to the little boy. Marcellino lives a happy life among the men of God but, as he grows up, he misses his mother more and more. To compensate for her absence, he tends to identify her with the Virgin Mary. One day, the local lord, in search of a child to raise, decides to adopt Marcellino and to bring him up in his castle. He dresses him in rich attire and gives him a strict education. But Marcellino feels miserable there and eventually runs away.Back in his dear convent, he gleefully resumes his former life. He still misses his mother but his life changes when he finds a crucifix in the attic. A wonderful friendship between Jesus and him is born.









Производство: Испания, Италия, Франция (Production Group, UGC PH, Vídeo Mercury Films)
Продолжительность: 01:32:05
Язык: испанский
Субтитры: английские

Файл
Формат: DVD Video
Качество: DVD9
Видео: NTSC 4:3 (720x480)
Аудио 1: Dolby Digital AC3, 2 ch (английский)
Аудио 2: Dolby Digital AC3, 2 ch (испанский)
Размер: 6.23 GB




Уважаемый пользователь, вам необходимо зарегистрироваться, чтобы посмотреть скрытый текст!