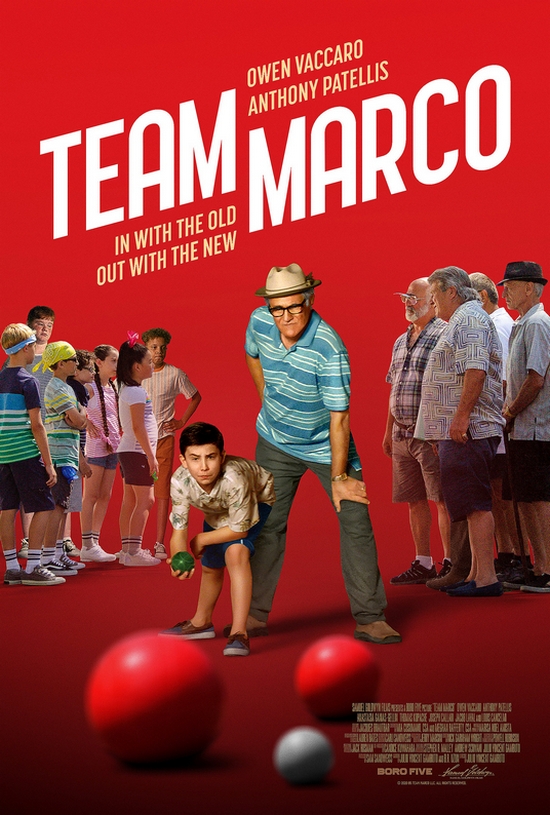 Оригинальное название: Team Marco
Год выхода: 2020
Жанр: драма, комедия, семейный
Режиссёр: Julio Vincent Gambuto

В ролях:
Луис Канселми / Louis Cancelmi, Оуэн Ваккаро / Owen Vaccaro, Томас Копаче / Thomas Kopache, Грег Рикаарт / Greg Rikaart, Анастасия Ганиас / Anastasia Ganias, Jacob Laval, Антониетта ЛаВеккия / Antoinette LaVecchia, Кевин Интердонато / Kevin Interdonato, Итан Коскей / Ethan Coskay, Джейк Кацман / Jake Katzman, Caitlin Hammond, Anthony Patellis, Joseph Callari, Skylar Lipkin, Raymond Sammak, Precious Pia и др.

Plot:
Marco, 12, is obsessed with his iPad and hardly leaves the house. But when his grandmother dies and his grandfather moves in, Marco's life is turned upside-down and he's forced...to go play outside. "Nonno" (Grandpa) introduces him to bocce ball and to the neighborhood crew of old Italian men who play daily at the local court. With sport, laughter and love, Marco finds connection to other people and rounds up a team of neighborhood kids to take on Marco's grandfather and his pals.









Производство: США (Borough Five Pictures)
Продолжительность: 01:32:12
Язык: английский

Файл
Формат: MKV
Качество: WEB-DL
Видео: AVC, 1920x792 (2.40:1), 23.976 fps, 4581 kbps
Аудио: AC3, 6 ch, 48 kHz, 384 kbps
Размер: 3.19 GB




Уважаемый пользователь, вам необходимо зарегистрироваться, чтобы посмотреть скрытый текст!